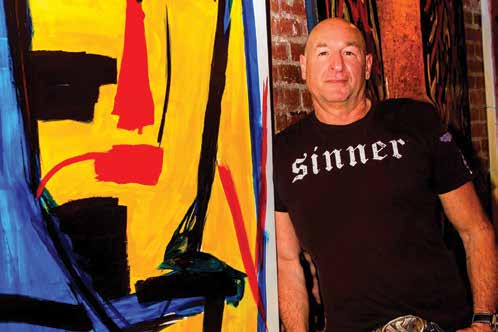 FOODIES REJOICE! Renowned, distinguished and well known chef Joe DiMaggio Jr. is leading the latest dining outpost on the Sarasota culinary landscape, Servandos. Chef Joe has been cooking for numerous A-list celebrities. His food has been hailed all over the world for being inventive, minimalistic with outrageous flavors.
Servando's is the latest venture of Matthew Diveley, a local restaurateur who has been in the business for over 10 years. "We are thrilled to bring amazing food, music, art and atmosphere to the downtown area, particularly the Rosemary District" Matt commented, "There is nothing quite like this concept in the entire region".
Chef Joe DiMaggio Jr. has opened restaurants in a similar vein all over the world in far flung locales such as Toronto, London and Tokyo. He is an accomplished artist and has been painting for over 30 years. Art plays an important role in the venue as up and coming artists are featured on a stage nightly, while diners enjoy their creative cuisine along with live music.
The Mediterranean influences are apparent with the wide array of tapas, designed to excite the palate and awaken the senses. Tapas have evolved into an entire sophisticated cuisine that encourages sharing and conversation.
The cold tapas feature Foie Gras and chicken liver mousse with jellied ginger kumquat with a grilled baguette, green apple, chive and prima donna cheese, Catalan extra virgin olive oil with Myer lemon juice.
The hot tapas include short ribs, chargrilled and sliced thin with soy brown sugar with rice wine, Miso and scallion. There is also the Shawrma chicken thigh meat with mint yogurt, flatbread and chimichurri, and stuffed squid with crab and shrimp over potatoes and oregano crust.
Entrees feature a Miso and raw sugar crusted sea bass with saffron risotto and wild mushroom consumé. There is also chopped lobster with shrimp and spinach with a roasted garlic chardonnay over angel hair pasta.
Joe DiMaggio Jr. has an extensive background in the culinary arena. Chef Joe apprenticed under Master Chef & Michelin Star recipient Jacque Maximan at the Hotel Negresco in Nice, France and at the Hotel Les Palmiers in Saint-Raphael Beach for 2 years. He also studied with Tokyo's prominent Chef Kumagai Kihachi. Today, Chef Joe DiMaggio Jr. brewing his own special food presence in our beautiful Sarasota downtown area. Servandos speaks for itself with a Revolutionary Pan American menu that touches upon cuisine from all over the Americas with a decidedly Mediterranean flair.
Open for dinner Tuesday–Sunday, Servandos is not only a serious dining destination, it offers live music nightly with an eclectic, world vibe. – Susan Short