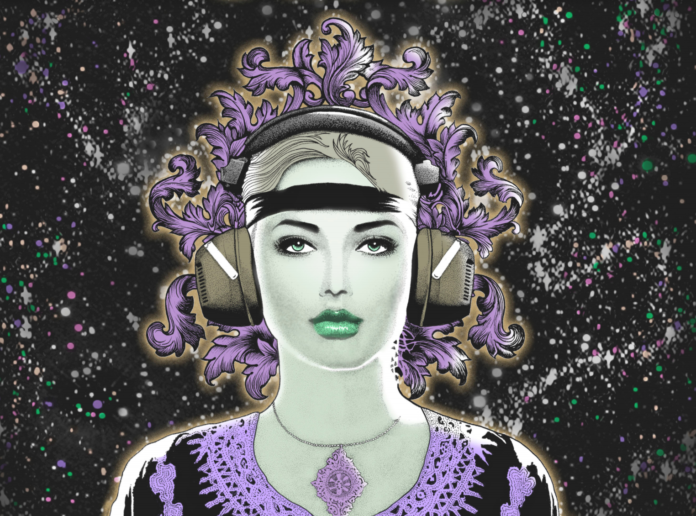 By Dan Warren (Warren Media & Marketing)
With elements of Fusion, R & B, Electronica and World Music, Neo-Jazz trio Oui' 3 has set out to redefine the public's perception of Jazz music. After two independent CD's and their recent ITI Music debut CD release of "Occupy Your Mind", Oui' 3 are clearly on a roll. "OYM" features jazz legend John Klemmer and Jimmy Kimmel Live band leader/saxophonist Cleto Escobedo III. Formed in Los Angeles, California in 2009 and comprised of guitarist Billy Joe Wiseman, bassist/vocalist Lou Castro and drummer/percussionist Jim Xavier. The trio is currently enjoying airplay on terrestrial and internet radio in markets such as Las Vegas, Atlanta, New York City, Boston, Minneapolis, San Diego, Santa Barbara, Berkeley & Miami. Following the trio's previous night's performance to an enthusiastic crowd at the world famous Baked Potato jazz club, I was able to sit down with Oui' 3 bassist Lou Castro at their LA rehearsal studio to discuss the concept and creation behind "OYM" and what it takes to keep this trio moving forward.
DW – So let's get started. How did Oui' 3 come up with the cover art for the "Occupy Your
Mind" CD?
LC – When we originally started looking for an artist to capture our vision, we tried out an artist from Pomona, California. That didn't work. Next we tried a guy from Wales who delivered us a fantastic piece of art, but we felt it wasn't capturing our concept. On our third attempt, we found graphic artist Darren Grealish. Darren absolutley nailed it with the fantastic image for the cover which has now become the band's avatar.
My wife Mary, who is a graphic artist as well made a few final tweaks by creating more space and sharpened up the image. And after many discussions about our branding efforts with Warren Media and Marketing we finally decided on the color purple for the campaign and gave our avatar the name of "Jade".
DW – What does it take to compose and produce an effective CD release such as "OYM"?
LC – The compositions are very important to the success of the release, as well as the presentation and pace of the CD. Most of the material for the "OYM" release was written and originally recorded at Buffalo Studios with keyboardist Arlan Schierbaum in Los Angeles, California. We also recorded basic tracks for 3 more songs at Slideaway Studios with Chuck Kavooras and one more song at Pacifica Studios with Glen Nishida. Overdubs were recorded at Casa Gaviota Studio. We tracked John Klemmer and all of the final mixing, overdubs, and effects there at Pacifica. Cleto Escobedo III did his part at Jimmy Kimmel's in-house studio in Hollywood at the ABC facility. The mastering was handled by Johannes Raassina whom I had met on another recording project. As executive producer, it was my job to bring all of the disparate pieces together into one unified whole.
DW – How did Jazz legend John Klemmer end up playing on this release?
LC – John Klemmer came into the mix through an interesting set of circumstances. A friend of ours, Robert LaPierre was doing some renovation on John's house. He happened to give John a CD of some of our recordings whereby John expressed an interest in working with us. We played phone and e-mail tag for a bit until one night I called him up. We had previously given him a recording and Billy Joe Wiseman had written out a chart which we sent along. I told John that I was going in the studio that night. "Are you coming or not?" He asked me if I'd come pick him up. I said sure, picked him up, took him to the studio where he proceeded to play some beautiful music, John's track took about and an hour or less. Funny thing was that the mic on his horn fell to the floor but the take was so good and the sound so unique along with the echo effect that we kept it.
DW – Another cameo on the recording was by Cleto Escobedo III of Jimmy Kimmel Live. How did that relationship start?
LC – Billy Joe Wiseman had known Cleto from his days when he taught jazz guitar at UNLV and they had always kept in touch. We would run into Cleto through the course of doing various gigs here in LA. When it came time to do the record, Billy Joe reached out to him and he graciously accepted the invitation. With the help of Jeff Babko (The Cletones keyboardist), he recorded his part and sent it to us. We dropped it into the track and it worked perfectly.
DW – What does it take to keep this trio motivated & functioning?
LC – Being in a band is like being being married to a degree. It's takes a lot of hard work, compromise, mutual respect, passion, and a willingness to see the big picture even when it's not fully discernible. You also have to realize that the chemistry between the members is of the utmost importance and is totally unique to that collection of individuals. That's why the Beatles are the Beatles, the Stones are the Stones, U2 is U2. The sum of the parts is greater than the whole. We keep motivated by knowing that we can always be better at what we do. We're always shedding(practicing) on our own, writing , recording, and interacting with each other on new ideas, concepts, and strategies. We also teach and develop young talent coming up in the profession. It's our responsibility to give back to the community and people that have given so much to us with their time, patience, and experience.
DW – What can we look forward to in the near future from Oui' 3?
LC – In the immediate future, we're doing a live streaming broadcast at the Newtork Concerts studio in Burbank, California. We're also doing some more gigs at The Baked Potato, The Sawdust Festival in Laguna Beach, and a road trip or two. To top it off, we are considering releasing a live CD and have a ton of live performances that we'll be sifting through. Most is from our recent appearance at the world famous Baked Potato in Los Angeles. On the live recordings are a lot of new songs that have never been heard before except by our fans who are pretty amazing, I must say. Also, Oui' 3 has been well received by radio and getting a lot of airplay in places like Atlanta, Minneapolis, Boston, NYC, Las Vegas, Huntsville, Evansville, San Diego, and Santa Barbara. We want to visit them all and I can't forget Europe and Asia. So hold on, we're coming.
Please visit OUI3.Com for more information.