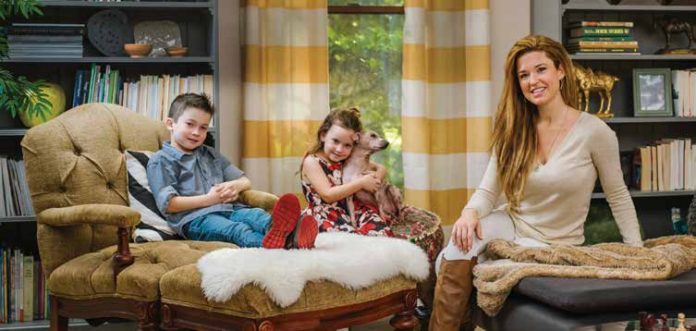 THERE IS NO LOSS FOR WORDS to describe Dr. Dani McVety. Brains, beauty and talent, along with compassion, grace and humility are just a few adjectives that come to mind when I think of this lovely young woman.
I first met Dani, when she was a teenager, at a friend 's family function. I was instantly taken with this delightful young woman who, as it turns out, is a world champion ballroom dancer. (She shares a plethora of awards with her brother & dance partner, Colby). That night I got to witness her performance firsthand as she glided across the dance floor – the epitome of grace and elegance. Now all grown up with kids of her own, Dani is a highly respected veterinarian, and a groundbreaking entrepreneur.
Dani grew up around horses and other critters in Tampa, Florida, and was indeed "that kid" who brought every creature home wanting to keep and care for them. Having a natural ability to connect with animals, it came as no surprise when she chose to become a veterinarian. Expecting to specialize in equines, Dani's focus changed after being inspired by her volunteer experience with human hospice. Gravitating toward the communication aspect of veterinary medicine and noticing a void in hospice pet care, Dani made a commitment to offer not only the highest standard of care, but compassion to help ease the fear and stress affiliated with transitioning a beloved pet.
Dani brings her expertise and the very same attributes that so elegantly navigate her across a dance floor to "Lap of Love," the national veterinary hospice and in–home euthanasia service organization that she founded. After joining forces with fellow alum Dr. Mary Gardner, the two women grew their forward-thinking state-of-the-art franchise to 60 plus which is recognized as the first of its kind in the United States. "Lap of Love" will soon have a presence overseas, beginning with Australia. While in-home euthanization is certainly not new, franchising the business had never been done before.
Our paths crossed many times throughout the years, but never at a more poignant time as to when my own family was faced with the end of life decision for our beloved Great Dane, Ziggy. Dr. Dani made a very dire and difficult time easier and more peaceful for all of us. Once again I was witness to this lovely young women showing an abundance of grace and dignity – this time in helping to ease pain and suffering. Dani McVety has certainly accomplished her goals.
For information, please log on to www.lapoflove.com. – Sheri Nadelman
In addition to being a hospice veterinarian, Dr. Dani McVety is a devoted single mom, author, consultant, public speaker and host for PetCareTV. A graduate of University of Florida College of Veterinary Medicine, she is the youngest recipient of the college's Distinguished Young Alumni Award (2013), in addition to the Florida Veterinary Medical Association's President's Award (2014).