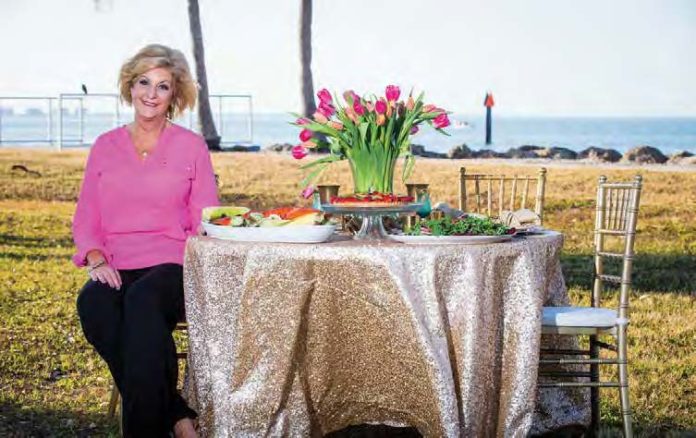 FAMILY BEAUTIFUL: Can you tell me about your background as a chef?
JUDI GALLAGHER: I have always been obsessed with food. Playing 'restaurant' and hosting dinner parties as a child were an early passion of mine. Almost naturally, it was logical to head in the direction of becoming a professional chef. I attended Johnson and Wales in Providence, Rhode Island and after graduating worked in the corporate world before starting my own restaurants north of Boston. Eventually, I also started a successful dessert company.
FB: You are from Providence, Boston area. How did you get to Sarasota?
JG: I grew up in Connecticut. After graduating college I moved to the Boston area. Ultimately, the cold was just too much. Having vacationed on Siesta Key for several years, the decision to relocate to Sarasota felt right.
FB: What kind of foodie businesses have you created?
JG: Well, I did have the best lemonade stand on he block. I owned two restaurants, a catering business, and the dessert company. Also, 15 years ago, I created Judi Gallagher & Associates – a public relations company for the hospitality business. I still run the company today, with an incredible team of experienced consultants. My current roles as Contributing Food & Wine Editor at Sarasota Magazine, and Culinary Travel Editor of mycookingmagazine.com add to my current professional endeavors.
FB: What is your role at the ABC 7 SunCoast View? JG: I was named Culinary Director in 2009. My responsibilities include my cooking segments, week-days at noon. I host and select The Best Of Food segments on The SunCoast View every Wednesday. In addition, I am the Executive Director of the station's new dining page, which has been a very exciting and successful project. FB: What are your favorite things about the food scene in Sarasota/Manatee?
JG: The food scene on the Suncoast has grown with much more diversity and choices: Indian, Vietnamese, a Jewish deli, and, food trucks are all wonderful additions to our evolving scene. Global cuisine is making its mark.
FB: What are some of your favorite kinds of cuisine?
JG: Definitely Asian and Italian. I could eat at Pho Cali four times a week and the other three I search for are pasta and fresh grilled seafood.
FB: How do you see the area evolving from a cuisine/restaurant perspective?
JG: I have noticed a big movement towards knowing where your food comes from, as well as supporting sustainable farming. There will always be support for fine dining, but I am really enjoying the casual arena.
FB: Can you describe your "perfect day"? JG: Coffee in bed then a beach walk and lunch out that includes a salad with grilled salmon or seafood. Later, sunset on the beach before going out for a big juicy cheeseburger and a bold glass of red wine.
FB: How does your family affect your personal style and choice of dining?
JG: Well, my husband often prefers lamb and olives, two things that I do not. He enjoys going out too, but loves when I grill steaks and make a Caesar salad with any type of potato. (He is a Gallagher after all)
FB: Who is you favorite rock star?
JG: By far, Bruce Springsteen. We will be seeing him six times on his latest 'River' tour – with 3 of the concerts in one week in California. He sings to the working poor, the long lost loves and social issues that I really believe in. I feel pure joy when we can sing and dance with 30,000 other fans. It is magic. (And yes, we usually tailgate with Jersey style pizza.) Special thanks to Just A Basket Case for table décor and styling.